Talking Fashion and Style with TOWIE's Cara Kilbey

She is one of thee hottest beauties on hit show The Only Way Is Essex at the moment. She has a fab sense of style, always mixing up the high street with a bit of designer and even the odd bespoke garment thrown in for good measure!
Cara Kilbey, has both brains and beauty, she is currently working on launching her own online boutique, stocking some amazing threads from some of the best up and coming designers across Europe, all this and she even found time to do her bit for charity, recently completing the 2012 London Marathon raising money for The Samaritans.
We caught up with Cara for a quick lunch, in Essex to talk, TOWIE, her business plans, and of course, fashion.
Firstly, congratulations on completing the London Marathon. How are you feeling?
I feel great, it was really difficult but one of the biggest achievements of my life. I am really proud of myself and all of the other runners that took part. I am also really grateful to all of those that sponsored me and helped me raise money for The Samaritans.
So, we notice that you have a very distinct style, how would you describe your fashion sense?
I am an avid follower of fashion and am always aware of the current trends, but I know that all trends do not suit all people, so I try to choose clothes that suit my body shape and keep my style fashionable but as classic as possible.
I tend to wear a lot of navy, black and cream as I think these colours are the most timeless.
Which fashionista inspires you?
I love Kim Kardashian, she has a totally real figure. She is curvy but nips right in at the waist, so I often look for style inspiration from her!
Cara wore TFNC shirt when filming TOWIE
Open back pleated TFNC shirt Price: £25.00
What would you say are your favorite brands and why?
I think that the High Street and online boutiques have never been better so I would say that 50% of my wardrobe comes from there.
I try to add in a dash of designer to all of my outfits, whether it be a nice pair of heels, clutch bag or a luxe scarf.
I have been wearing a lot of TFNC and WalG lately. I love how high fashion they are but at quite affordable prices.
Cara loves TFNC!
What would you say are your wardrobe staples?
I have stacks of coloured fitted jackets that instantly transform my skinny jeans into a great daytime look. And of course a large pair of sunglasses are a must have for everyone!
Wal G Blazers Price : £42.00

You're off to Marbella tomorrow for some sunshine, what looks will you be rocking day, noon and night on the Spanish Riviera?
Maxi dresses are always a winner for the day, they pack down so small and are perfect for a bit of beach chic. I'll also make sure I have a few cute playsuits to slip on over my bikini , of course sparkly dresses for the evening and anything striped! I'm totally loving the nautical look right now.
Cara wears the TFNC Devona dress
Cara's top 4 Evening Essentials!
TFNC Angela Dress Price : £85.00
TFNC Paris Scallop Dress Price: £55.00

TFNC Devona embellished dress Price : £89.00
TFNC Hepburn Dress Price : £65.00
Cara Kilbey dines in Marbella with Frankie Essex, Billi Mucklow and James Hewitt
Cara's Beach Chic Selection
How long does it take you to get ready for a night out?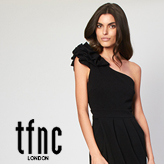 Not that long, maybe an hour or so. I normally have my hair blow-dried and make up done for me so its just a case of choosing what to wear!